<style type=text/css><!-- [et_pb_line_break_holder] -->.lg_image_blurb {<!-- [et_pb_line_break_holder] -->background: -moz-linear-gradient(top, rgba(0,0,0,0) 0%, rgba(0,0,0,0) 60%, rgba(0,0,0,0.8) 100%); <!-- [et_pb_line_break_holder] -->background: -webkit-linear-gradient(top, rgba(0,0,0,0) 0%,rgba(0,0,0,0) 60%,rgba(0,0,0,0.8) 100%);<!-- [et_pb_line_break_holder] -->background: linear-gradient(to bottom, rgba(0,0,0,0) 0%,rgba(0,0,0,0) 60%,rgba(0,0,0,0.8) 100%);<!-- [et_pb_line_break_holder] -->filter: progid:DXImageTransform.Microsoft.gradient( startColorstr='#00000000', endColorstr='#cc000000',GradientType=0 );<!-- [et_pb_line_break_holder] -->}<!-- [et_pb_line_break_holder] -->.lg_image_blurb .et_pb_blurb_content {<!-- [et_pb_line_break_holder] -->opacity: 0;<!-- [et_pb_line_break_holder] -->transform: scale(0.2);<!-- [et_pb_line_break_holder] -->-webkit-transform: scale(0.2);<!-- [et_pb_line_break_holder] -->-webkit-transition: all .4s cubic-bezier(.57,0,1,.57) ;<!-- [et_pb_line_break_holder] --> -moz-transition: all .4s cubic-bezier(.57,0,1,.57);<!-- [et_pb_line_break_holder] --> transition: all .4s cubic-bezier(.57,0,1,.57);<!-- [et_pb_line_break_holder] -->}<!-- [et_pb_line_break_holder] -->.lg_image_blurb:hover .et_pb_blurb_content {<!-- [et_pb_line_break_holder] -->opacity: 1;<!-- [et_pb_line_break_holder] -->-webkit-transform:translateY(-40px) scale(1.0) !important;<!-- [et_pb_line_break_holder] --> transform:translateY(-40px) scale(1.0) !important;<!-- [et_pb_line_break_holder] -->-webkit-transition: all .6s cubic-bezier(.26,.4,.6,.98) ;<!-- [et_pb_line_break_holder] --> -moz-transition: all .6s cubic-bezier(.26,.4,.6,.98);<!-- [et_pb_line_break_holder] --> transition: all .6s cubic-bezier(.26,.4,.6,.98);<!-- [et_pb_line_break_holder] -->}<!-- [et_pb_line_break_holder] -->.b3-vertical-align { <!-- [et_pb_line_break_holder] --> display: flex; <!-- [et_pb_line_break_holder] --> flex-direction: column; <!-- [et_pb_line_break_holder] --> justify-content: center;<!-- [et_pb_line_break_holder] -->}<!-- [et_pb_line_break_holder] -->.lg_box_zoom:hover {<!-- [et_pb_line_break_holder] -->transform:scale(1.05);<!-- [et_pb_line_break_holder] -->box-shadow: 0 20px 150px rgba(0,0,0,0.3);<!-- [et_pb_line_break_holder] -->-webkit-box-shadow: 0 20px 150px rgba(0,0,0,0.3);<!-- [et_pb_line_break_holder] -->-moz-box-shadow: 0 20px 150px rgba(0,0,0,0.3);<!-- [et_pb_line_break_holder] -->-webkit-transition: all .6s cubic-bezier(.26,.4,.6,.98) ;<!-- [et_pb_line_break_holder] --> -moz-transition: all .6s cubic-bezier(.26,.4,.6,.98);<!-- [et_pb_line_break_holder] --> transition: all .6s cubic-bezier(.26,.4,.6,.98);<!-- [et_pb_line_break_holder] -->}<!-- [et_pb_line_break_holder] -->.lg_box_zoom {<!-- [et_pb_line_break_holder] -->-webkit-transition: all .4s cubic-bezier(.57,0,1,.57) ;<!-- [et_pb_line_break_holder] --> -moz-transition: all .4s cubic-bezier(.57,0,1,.57);<!-- [et_pb_line_break_holder] --> transition: all .4s cubic-bezier(.57,0,1,.57);<!-- [et_pb_line_break_holder] -->}<!-- [et_pb_line_break_holder] --><!-- [et_pb_line_break_holder] --></style>
Opening Hours
Monday-Friday: 7AM-6PM CT
Saturday-Sunday: 7AM-9PM CT

GATOR GRILL MENU
Click the button below to download and/or view the Gator Grill Restaurant menu as a PDF.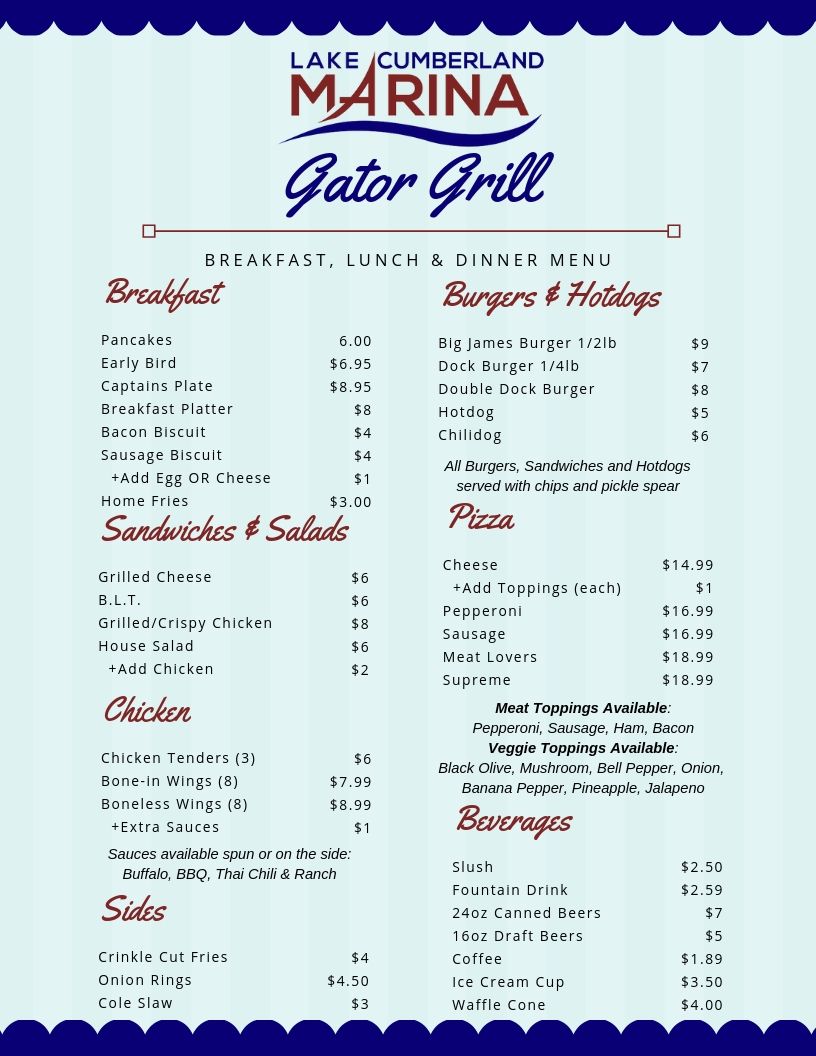 Tell US What You Think
We love customer feedback!
The Gator II Grill has long been the best food on the water. We want to update our menu but make sure to keep our customers favorite dishes. Let us know what your favorites are, and or, what you'd love to see added to our existing menu. We are always listening to our customers!